Landscaping Design

The canvas that yard designers work on is considerably different from other art forms. The "art" is constantly evolving as people use the space, environmental conditions change, and as plants grow. It is due to this reason that the design process systematically considers all the aspects of the environment, the land, the growing plants and user needs to ensure an ecologically healthy, functional, and aesthetically pleasing design.
If you have just moved into a new property or would merely like to give your backyard a makeover, designing is guaranteed to be a lot of fun. However, it can be hard to know exactly where to start. You need to be aware of the essential aspects to take into consideration and incorporate into your outdoor living space design. If you would like your backyard to appear professionally groomed, it is essential to consider the top 3 elements that all professionals use:
If you can get this right, you will have an impressive backyard.
1. Color
Color is arguably the most used element and plays the most critical role in your backyard aesthetic. It can affect your mood, create optical illusions with space, and even add dimension to your backyard.
Flower and foliage color both help create moods. Color is used for visual interest in the design. Colors should be weaved intricately throughout, and its presence should be extended across the seasons at different levels.
The colors in the décor and plants in your design should complement the color scheme of your home, but you should be careful not to neglect your preferences and taste.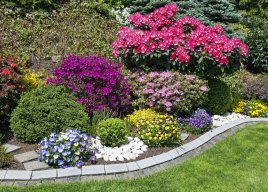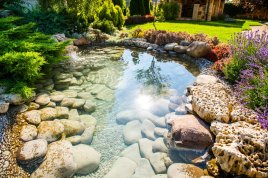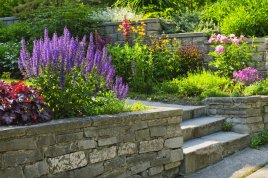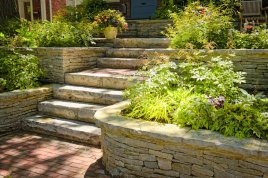 Here are the commonly used colors:
Warm colors include yellows, oranges, and reds, not just because they are reminiscent of the summer sun, but rather because they evoke excitement and passion. Warm colors make objects appear closer than they are, which makes warm colored plants great visual points of interest.
Warm colors are very bright, so you should arrange your blooms carefully. You should use softer shades to lead you to the boldest hues. Start your shrub and flower cluster with pale yellow blossoms then move up to the bright reds and oranges little by little.
Cool colors include greens, violets, and blues, which are natural relaxants and ideal for meditation gardens. Cool colored décor and plants appear to move away from you and recede into the background. The effect makes objects seem to be further away from you, which makes them suitable for smaller backyards.
2. Lines
You would not think that lines are essential in the process, but are very important when it comes to influencing how you experience your garden. Lines, such as those used for paths and gardens help in drawing attention to the focal points and help with the continuity of the terrain. Lines can have one or more characteristics, such as the ones described here, but generally, serve different purposes.
The properties of lines in design determine how people respond both physically and emotionally.
Straight lines are forceful and structural, are usually associated with symmetrical design, create a formal character, and lead the eye to the focal point directly. Straight lines are commonly found in hardscape material and edges. Diagonal lines are straight lines with an intentional direction.
Curved lines create a relaxed, natural, and informal character associated more with asymmetrical balance and nature. Curved lines typically move the eye at a slow pace and develop hidden views to add mystery to space.
Horizontal lines can make space feel larger by moving the eye along the ground plane. Low lines create a feeling of repose or rest and tend to be more subdued. Horizontal lines can either divide a space spatially or tie an area together. Low lines are usually created by short hedges, walkways, and low garden walls.
Vertical lines help make space feel larger by moving the eye up. Upward lines have a feeling of movement or activity and emphasize various features. When designing the perfect yard, vertical lines include tall and narrow plant materials such as trees or tall structures such as a birdhouse or an arbor on a pole.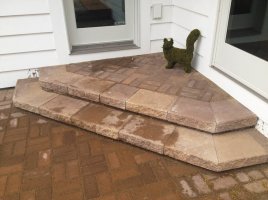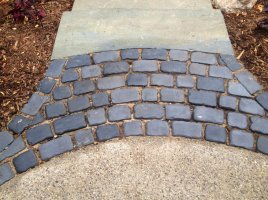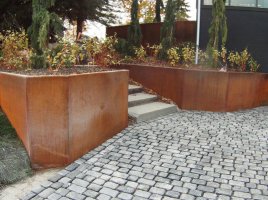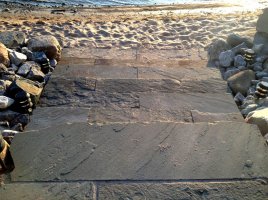 3. Form
Form refers to the shape of objects in a garden from the widespread ground cover to the tall trees and pergola. The form is usually the dominant visual element in the design that organizes the elements spatially and often determines the garden's style.
The form of garden ornaments, plant beds, and structures also determines the garden's overall form theme. By carefully selecting the different forms for your project you will be able to create natural patterns that contribute to the overall feel and look of your garden.
People are often able to perceive form even when just a part of it is visible. The suggestion of form coupled with familiarity is enough for the eye to fill in the rest. The repetition of form is critical to the creation of pattern, which is the primary organizational structure of the outdoor spaces.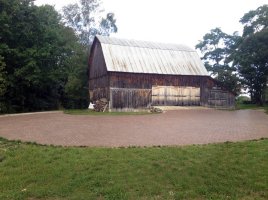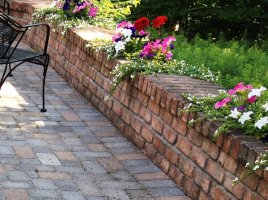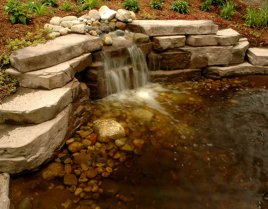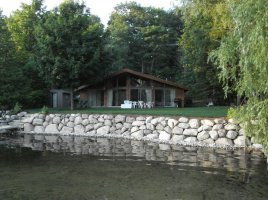 Plants, and especially shrubs are rounded. They are great for creating multiple plant groupings and are easy to look at.
Spreading and horizontal forms such as hedges placed close together are quite popular since they draw the eye to the horizon.
Weeping forms help lead the eye to the ground. However, their soft lines and unique shape can make an excellent focal point in your backyard.
Pyramidal forms such as trees lead the eye upward, so it is best to use them when grouped with more ground-level plants.
Understanding the three elements is critical to laying a foundation for good yard design and ensuring that you will love your landscaping for many years to come. If you would like assistance with regards to planning and implementing these elements, call us today!