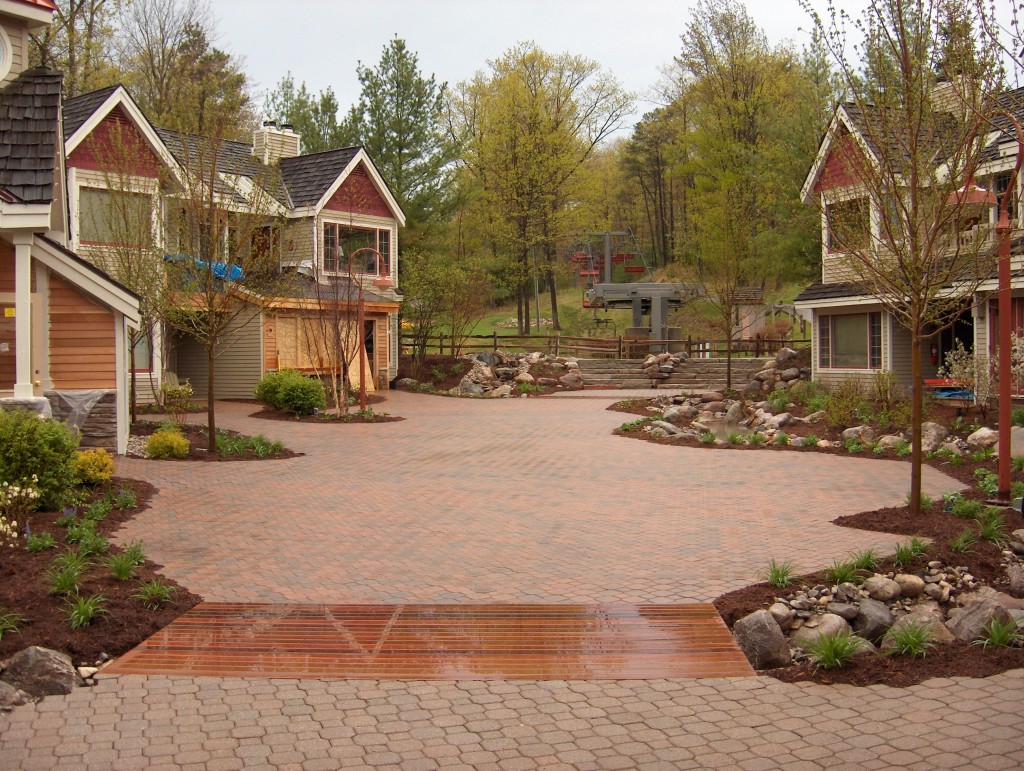 Landscape timbers can be implemented into any yard or garden for functional purposes as well as aesthetic purposes. Professional landscapers tend to combine function with aesthetics so that any garden bed, retaining wall, set of steps or multi-tiered planters will be as useful as they are attractive. The following are three ways your professional landscaper may implement natural or synthetic timbers to enhance your outdoor space.
Landscape Timbers Use in Landscapes
Garden Beds
These are among the most practical and eye-catching use of timbers. The timbers can be laid out in a rectangle to create a single garden space that you might use to grow vegetables. They can also be installed around the base of a row of trees or shrubs in smaller squares to allow you to add visual appeal with a variety of flowers and vegetable plants in differing arrangements. The side of the timbers that backs up to the trees and shrubs keeps moisture from escaping as well as prevents the soil from eroding.
Retaining Wall with Steps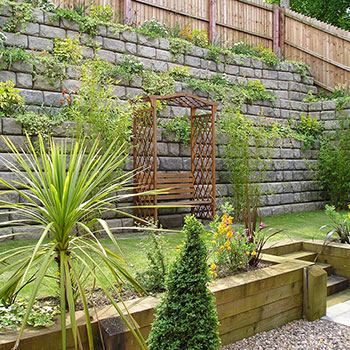 Professional landscapers often use wood timber to build retaining walls. If your yard is located on a slope, they may create both a useful retaining wall as well as a set of steps. The timbers that form the base of the steps can extend outwards in either direction to bolster the bottom of the slope while the steps themselves make it easier for you to reach the top of the hill to water plants or trees that you have growing there.
Steps can also be enhanced when a landscaper creates multi-tiered planters alongside each step. These smaller box-shaped spaces are perfect for adding decorative flowers and plants to make each side of the steps offer a flourish of greenery or color.
Multi-tiered planters
These can be built so that they stand alone in any area that you want them in. Your landscaper can erect several sets of planters, one atop the other using more massive timbers on the bottom and smaller timbers on top. This arrangement makes a place for your favorite plants to grow all while creating a focal point that will enhance the back of your house, your patio or pool area.
Timbers are used for practical purposes when a yard or outdoor space needs help preventing soil erosion or crumbling due to rain or melting snow. At the same time, any retaining wall can be designed using timber to create a beautiful landscape that will enhance the outdoor space in a creative way. Timbers are also great for creating swings or climbers for children as well as outdoor furniture like tables or benches.
A landscaper will use either natural or synthetic timbers in a design. For outdoor use, you will most likely want to be treated or non-creosote type natural wood. These cost more than synthetic timbers do, but these timbers have a tremendous appeal. Synthetic timbers are made of recycled plastic, however, so they might be the favored choice for any homeowner that wishes to keep their retaining walls, steps or planters environmentally friendly.